Administrative Structure
Administrative Structure
Administrative structure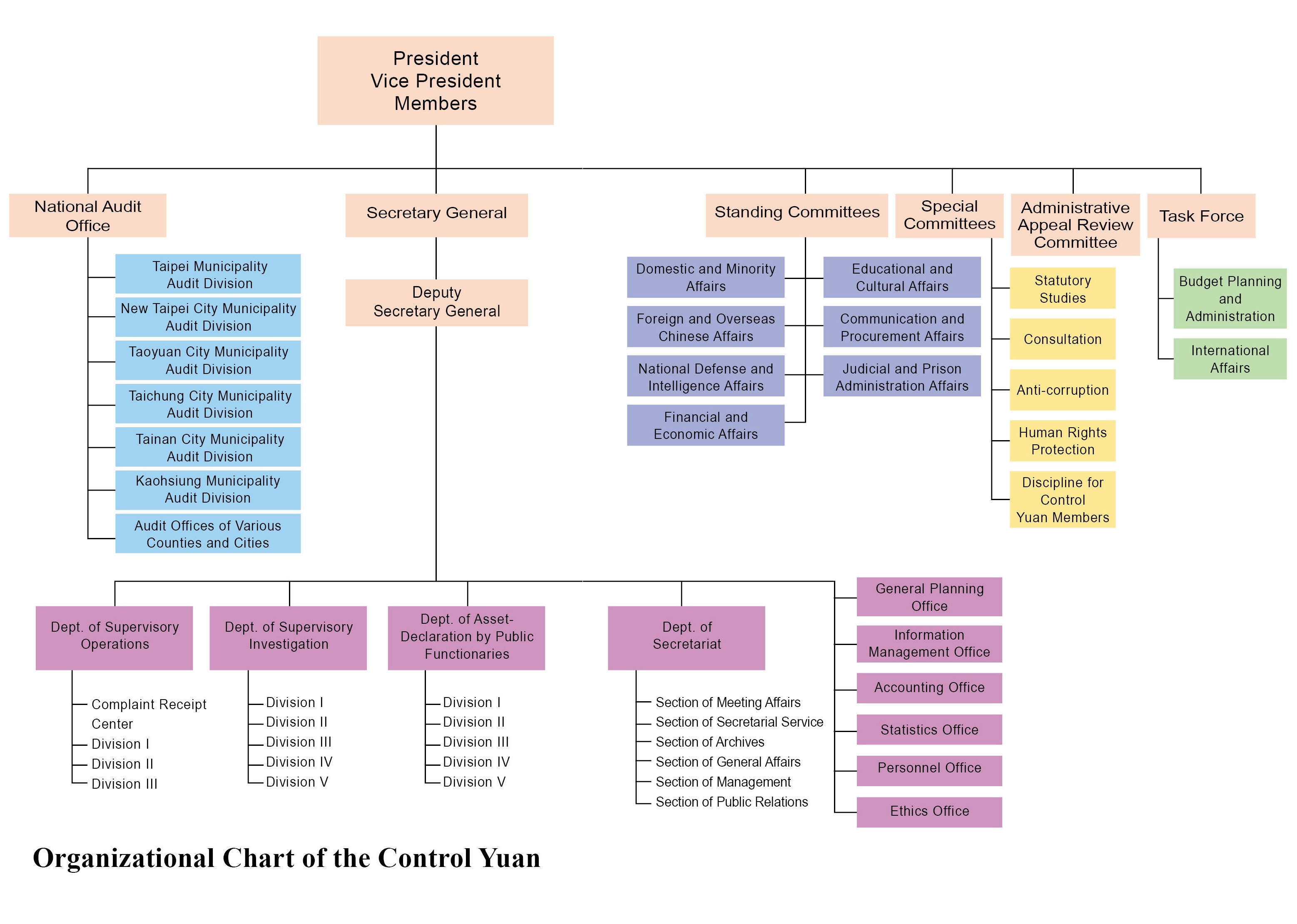 The Control Yuan has a specially-appointed secretary general who shall, under orders of the Yuan president, manage the routine operations of the Yuan and direct/supervise its staff. Under him or her, there is a deputy secretary general, who, under orders of the Yuan president, shall help the secretary general to carry out his or her duties. In addition, there are 4-6 counselors, 4 departmental directors, 4-6 research commissioners, 4 deputy departmental directors, 24-28 investigation officials, 2 office chiefs, 1 chief of the complaints receipt center, 13 divisional chiefs, 2 senior specialists, 18-23 secretaries, 8 sectional chiefs, 24-28 investigation specialists, 10-16 specialists, 2 analysts, 2 designers, 24-28 investigators, 15-23 administrative assistants, 2-4 stenographers, 2 nurses, 4-8 assistants, 2 operators, 1 pharmacist, 10-18 junior assistants, and 17 clerks.
 The Control Yuan has a department of supervisory operations, a department of supervisory investigation, a department of asset disclosures by public functionaries, a secretariat, a general planning office, an information management office. These departments and offices, which may be subdivided, are in charge of the following affairs:

  .matters concerning the receiving, processing and submitting of proposals for people's complaints
  .matters concerning censure and impeachment
  .matters concerning joint investigation related to investigation cases
  .matters concerning asset-declaration by public functionaries, handling prevention of interests conflict cases, reporting of political donations,
.matters concerning application for lobbying cases
  .matters concerning taking meeting minutes and the editing, printing, and issuing of a public report
  .matters concerning receiving and issuing of documents and maintaining and preserving official seals
  .matters concerning the treasury and general business
  .matters concerning development of comprehensive plans, and research development/evaluation
  .matters concerning the holistic planning and management of information systems
  .matters concerning coordination, liaison and news releases
  .other related matters

 Additionally, the Control Yuan has an accounting office, a statistic office, a personnel office, and an ethics office, which carry out their respective duties according to law. Each of these offices has a chief and additional staff needs are filled by personnel designated by the Organic Act of the Control Yuan.

 On January 7, 1998, the President of the Republic of China announced a revised version of the Organic Act of the Control Yuan, which stipulated that the Control Yuan shall set up under the department of supervisory investigation the special positions of investigation officials, investigation specialists, and investigators, who, under the direction and supervision of the secretary general, shall assist members of the Control Yuan to exercise their supervisory powers. These investigation personnel will be divided according to their educational backgrounds, experience, abilities and specialties, into five groups; namely, domestic affairs and ethnic minorities; the judicial, prison administration, police administration, fire control and asset declaration group; the financial and economic group; the transportation and purchasing group, and the diplomatic, overseas compatriots, national defense, intelligence, education and culture group.

Finally, these investigation personnel will be assigned, according to their specialties and posts, to assist Control Yuan members in investigating cases.